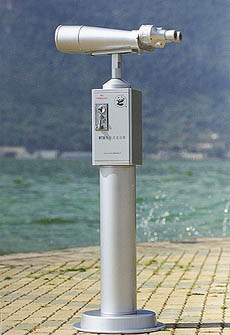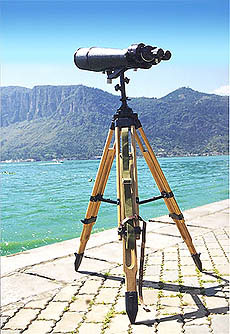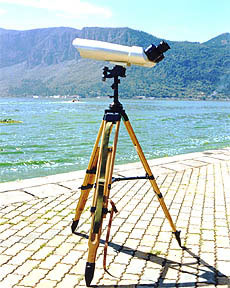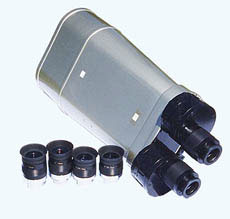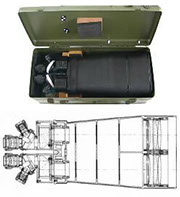 SS100L leatherette armored with wooden tripodadapter fitting.
SS25100II SS40100II with metal tripod
SS100M with wooden tripod
SS25100 SS40100 with coin controller
Giant 100mm objective lens is far more suited for static use. All-weather Study tripod enable the user to have a good vibration/shake free image. A magnification of 25x or 40x with a 100mm objective lens has been considered one of the best all-round high-powered observation binoculars for practicality and performance for over 50 years. Observation binoculars with coin-operated option comes complete with its own pedestal and base, designed for fixed position use, whether indoor or out. This makes them ideal for any situation where heavy traffic use, good security, safety and ease of use are important factors, such as hotels, cruise ships, observation towers and marinas.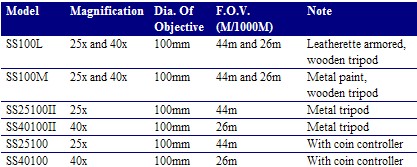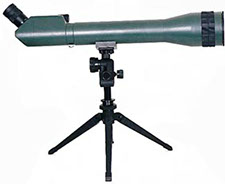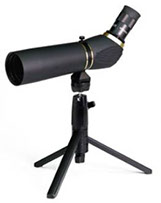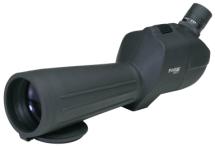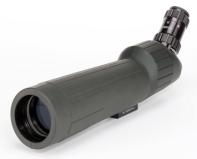 SS123650II: ultra compact but powerful zoom spotting scope, 12X - 36X 50mm, Scope Length 12.25", Super compact (SS206060 20.5" and SS183650II 14.7"), Field of view at 100 yards: 13'1" - 6'3" , Eyepiece positioned at a 45 angle for more comfortable, long term observation
SS154560II, SS154570II and SS206060II
SS309090II: giant 90mm lens provide crisp and sharp image